Comprehensive Lock & Security Services in Terrytown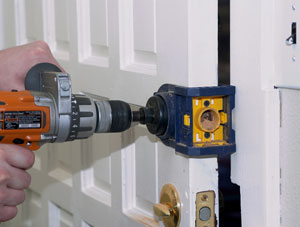 Duhon Lock & Security in Terrytown offers the services you need for your home, business or vehicle.
---
Commercial Locksmithing
Duhon Lock & Security can supply and Install all of your hardware and electronic locking needs. We will make sure your hardware will meet Fire Code & ADA laws.
Duhon Lock & Security can also rekey or masterkey your business with a standard commercial keyway or a restricted high security keyway such as Medeco, MX or Peaks. Duhon Lock & Security is also the place to go for safes. We have New and used safes in stock and we can also move safes.
Call today for a free quote 504-366-7212
---
Residential Locksmithing
Duhon Lock & Security can supply all of your hardware and decretive hardware for your home. We are an Emtek distributer so we can all the hardware for you new home or remodel. We also rekey homes so if you just moved into a new home it is a good idea to rekey. No telling who has keys to you home. Duhon Lock & Security can also recommend a safe for your home as well.
---
Sell & Service Safes
Duhon Lock & Security has all types of safes for sale for both residential and commercial purposes. We install every safe we have available in our inventory. If you require service due to a malfunction of the safe, you have forgotten the combination, or have lost the key, we can access any safe as quickly as possible. We can change the combination, repair the lock, or reprogram digital access codes as needed.
---
Automotive Locksmithing
Our locksmiths can get to anywhere in the Terrytown area in 90 minutes or less. We carry a factory cut key and remote to get you out of a jamb. Our state of the art tools program nearly every key for most vehicle makes and models, and we can program original factory remotes and transponder keys on site. We'll save you a trip to the dealer. If you require additional keys made, your remote reprogrammed, or your vehicle's locking system programmed to open with a different key, Duhon Lock & Security can meet your needs.
---
Electric Door Openers
Duhon Lock & Security also provides installation and service of electric door openers for commercial locations. This includes handicap accessible buttons, remote controlled door openers, and sliding door sensors. From offices to schools, retail stores, and medical facilities, we can meet the needs of any building.
---
Electric Strikes
We also install and service electric door strikes, which serve as an access control device for many types of doors. It replaces a fixed strike faceplate used with a latch bar, allowing the door to close and latch electronically just as a fixed strike would do. We have designs compatible with any system. Contact us for more details.